Union Papertech 
Level measurement solution relieves the pressure for speciality paper manufacturer.
Union Papertech uses pressure transmitters to monitor level in different parts of its paper manufacturing process. But measuring level in the 'pool box', an open tank containing a mix of water and fibre, was problematic. The instruments supplied by one of Endress+Hauser's competitors continuously failed, much to the frustration of Union Papertech's engineers.
One of Endress+Hauser's experienced field sales engineers identified the cause of the problem: the mill's hot and humid environment was creating condensation that was entering the sensor and causing the drift. The solution was to replace several of the old transmitters with Deltapilot M FMB50 hydrostatic level transmitters, which have been specially designed for plants with high levels of condensation.
Instrumentation Engineer Keith Hopkinson is delighted the problem has been resolved: "My stress levels have really come down! I couldn't afford to be spending hours fixing the same problem time after time after time. It's not only saving on downtime but the FMB50s are actually cheaper than the ones I used to have as well."
Get in touch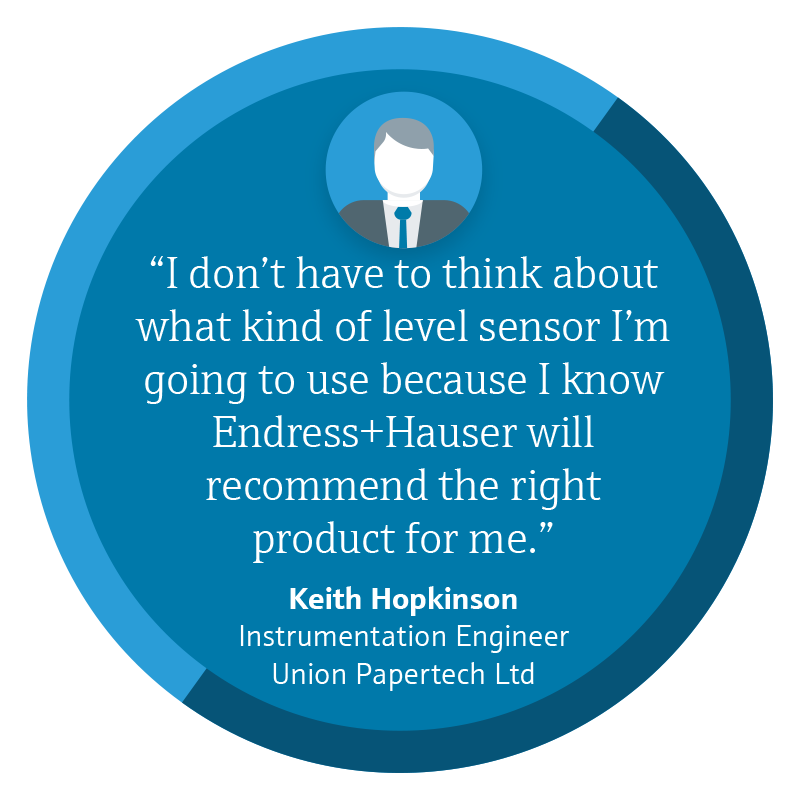 Success stories
Here are some of the ways in which we've helped our customers make smarter decisions to save money and improve their processes.
Get in touch
We can help you to make smarter decisions and achieve your goals sooner. Get in touch by calling 0161 286 5050 or fill in our form and tell us how we can help. We're looking forward to working with you.
Take our challenge and win!
Win a free Endress+Hauser energy-saving audit worth up to £2,000! Simply choose the smartest decisions (i.e. correct answers) in our quiz and share your details to be entered into our draw.
To find out what our energy saving audits entail, take a look at our FAQs. Terms and Conditions apply.