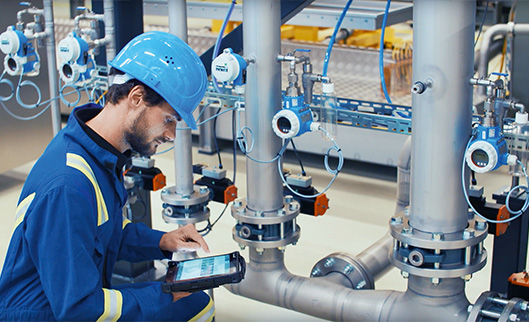 Our solutions 
Our solutions team are problem-solvers. They can help you to modernise your plant, reach peak performance or even deliver projects from scratch. They'll help you keep on schedule, manage risk and stay on budget with their project-management skills and unique tools. They can even provide embedded engineers who bring their instrumentation skills and knowledge into the important planning phases of your large-scale project and maintain contact with the core team.
We also offer consultancy services to help you navigate complicated regulations, assessment schemes and certifications in areas such as energy monitoring. We make use of your existing data and integrate it into your IT systems to optimise your processes. And we can show you how to monitor your assets remotely so you're always in control.
Get in touch
Training & useful resources
Our training courses and whitepapers will tell you what you need to know to optimise processes in your plant. There aren't many challenges we haven't seen before!
Take our challenge and win!
Win a free Endress+Hauser energy-saving audit worth up to £2,000! Simply choose the smartest decisions (i.e. correct answers) in our quiz and share your details to be entered into our draw.
To find out what our energy saving audits entail, take a look at our FAQs. Terms and Conditions apply.
Get in touch
We can help you to make smarter decisions and achieve your goals sooner. Get in touch by calling 0161 286 5050 or fill in our form to see what we can do. We're looking forward to working with you.
What we do
Whether you need an individual product, full application solution or instrument calibration service, we can help.