Quality control is knowledge at every stage.
Increase process uptime and confidence in measured values with Heartbeat Technology.
Manufacturing processes are subject to specific requirements, whilst at the same time, plants need to operate efficiently. The solutions call for innovative technologies and ideas - now more than ever.
Find out how our experts help manufacturers in the food & beverage industry to ensure quality whilst reducing operational costs; remaining compliant with food safety and quality standards, and ensuring high plant availability.
Download our guide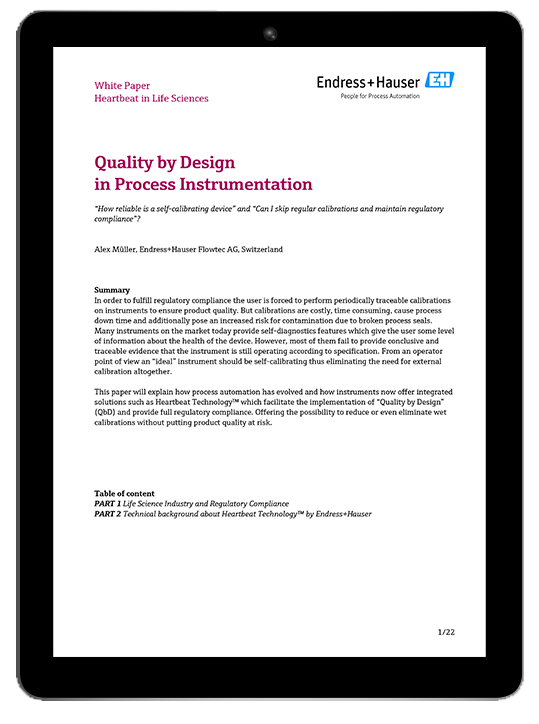 Quality by design in process instrumentation
A key challenge in fulfilling regulatory compliance is the requirement to perform periodically traceable calibrations on instruments to ensure product quality. But calibrations can be costly, time consuming, cause process down time and pose an increased risk of contamination.
Find out more about Endress+Hauser's integrated solutions such as Heartbeat Technology, which facilitates the implementation of 'Quality by Design' (QbD) and provides full regulatory compliance, offering the possibility to reduce or even eliminate wet calibrations without putting product quality at risk.
Download our Heartbeat whitepaper
Success stories
Here are some of the ways in which we've helped our customers make smarter decisions to ensure quality and improve their processes.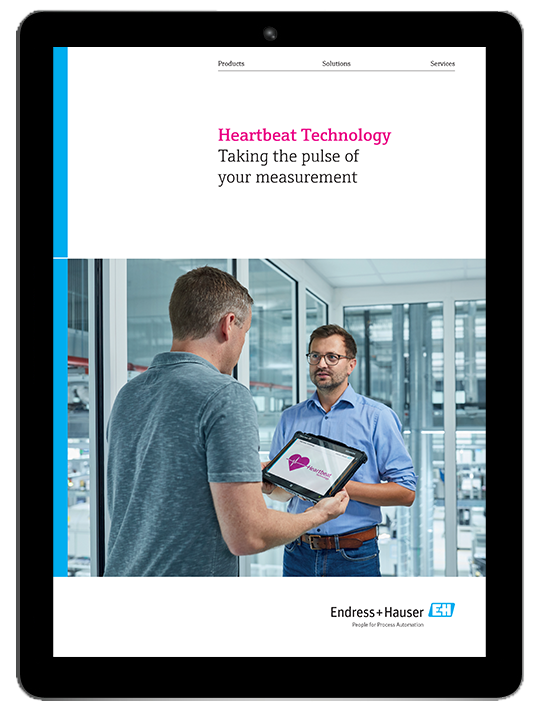 Take the pulse of your plant with Heartbeat Technology
We've introduced Heartbeat Technology to our range of devices so you can benefit from increased process uptime and confidence in your measured values.
From real-time process and device diagnostics to in-situ verification and predictive maintenance, we offer you knowledge and control. Because we understand that making real cost savings should never mean compromising on quality.
Discover how we can help you achieve quality and control.
Download our guide
Our experts
Get in touch with one of our experts today to find out how you can make smarter decisions. Tel. 0161 286 5000
Ian Nelson - Chemical Industry Manager
I support customers to improve plant performance by adopting innovative solutions like Heartbeat Technology with its inline diagnostic, verification and monitoring functions.
Louise Snaith - Life Sciences Industry Manager
I love finding the best option for the customer. Regardless of scope, budget or installation restrictions, I can always find a solution.
Ann Nolan - Service Contracts
Precise, reliable measurements play a key role in increasing productivity. Preventative maintenance is essential to keep your measurement instruments operating.
Get in touch
We can help you to make smarter decisions and achieve your goals sooner. Get in touch by calling 0161 286 5000 or fill in our form and tell us how we can help.