Safety by design. It's simply integral.
By making instrumentation easy to install, we minimise human error.
At Endress+Hauser we apply generations of knowledge to ensure the highest levels of process integrity.
We understand that human error can happen, and that it is one of the most complex safety issues to tackle. We help to minimise these errors by making instrumentation easy to install through the use of our set-up wizards.
Discover how you can mitigate some of the biggest challenges facing plant operators such as increasing safety standards and regulatory requirements, and the loss of resources and technical knowledge.
Download our whitepaper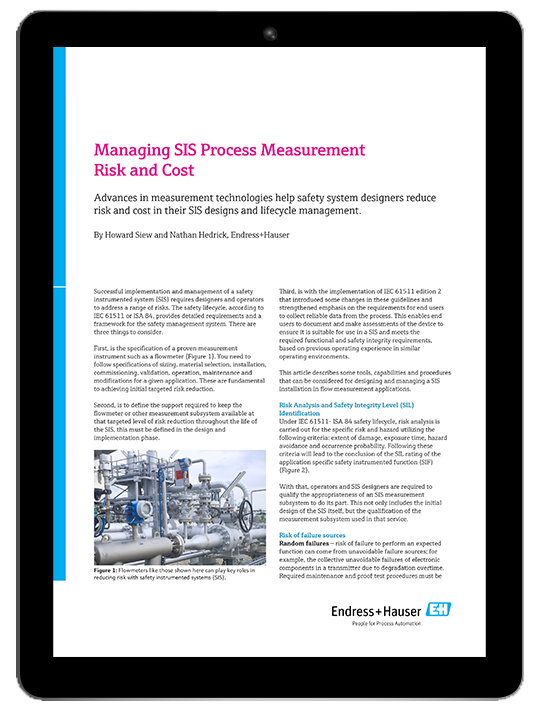 Managing SIS process measurement risk and cost
Successful implementation and management of a safety instrumented system (SIS) requires designers and operators to address a range of risks.
Advances in measurement technologies help these designers to reduce risk and costs in their SIS designs and lifecycle management. This article describes some tools, capabilities and procedures that can be considered for designing and managing a SIS installation in flow measurement applications.
Find out how you can increase the reliability of your measurement devices.
Discover how we can help you to reduce risk
Success stories
Here are some of the ways in which we've helped our customers make smarter decisions to ensure safety and improve their processes.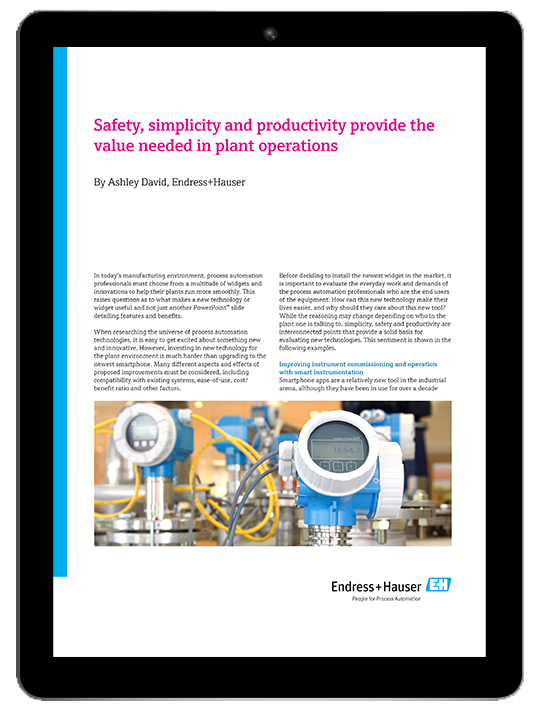 Safety, simplicity and productivity provide the value in plant operations
Download our whitepaper to understand how to improve instrument commissioning and operation with smart devices, discover how apps can make interactions with instruments safer and simpler, and learn more about why the right software improves productivity.
Download our whitepaper
Our experts
Get in touch with one of our experts today to find out how you can make smarter decisions. Tel. 0161 286 5000
Mark Hodgins - Customer training
I champion process safety. I want to help plant operators minimise human error in processes through shared knowledge and best practice.
Lewis Rodgers - Service Technician
I prefer to spend extra time with a customer to explain something rather than just fixing it; that way, if it does happen again, they can resolve it themselves.
Tim Sagar - Offshore
I'm responsible for commissioning safety-critical devices, which requires specialist knowledge and training. I help customers protect their assets by ensuring instruments function under difficult conditions.
Get in touch
We can help you to make smarter decisions and achieve your goals sooner. Get in touch by calling 0161 286 5000 or fill in our form and tell us how we can help.