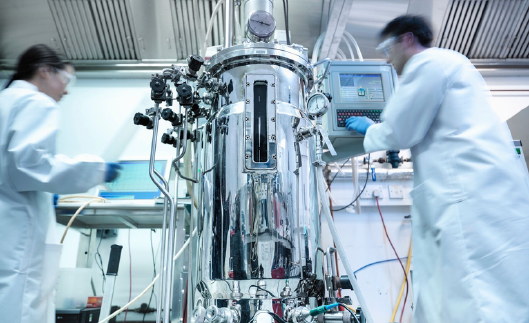 Nicro, Croatia
Advanced bioprocess control
A typical indicator of fermentation progress is the lack of dissolved oxygen in the media which gives an estimation of the process duration.
Optical density and metabolites may also be monitored for a better insight into the process. Concentration of metabolites would usually be measured off-line with time consuming chromatographic techniques and therefore would require samples. This can also bring a potential risk of contamination and lead to the loss of a valuable batch.
Nicro combined their competencies together with BIOCentre and Endress+Hauser to provide a complete packaged solution for fermentation processes.
The results included safe operation and time saving thanks to in-line process monitoring of metabolites without the need for sampling Improved process control leading to optimised production and increased yield Complete packaged solution for fermentation.
Find out more
Make Smarter Decisions
Return on investment
after 35 fermentation processes
Improved process control
leading to optimised production and increased yield
Safe operation
and time saving thanks to in-line process monitoring
Limited risk
of contamination
What our customer said
"While on-line monitoring the bioprocess I could pinpoint a time when bacteria switched from one carbon source to the other – the optimal time point to introduce feed and ultimately increase yield."

PhD Adriana Lepur
Head of Microbiology Laboratory BICRO BIOCentre Ltd, Zagreb, Croatia
Get in touch
Our experts
Get in touch with one of our experts today to find out how you can make smarter decisions. Tel. 0161 286 5000
Louise Snaith - Life Sciences Industry Manager
I love finding the best option for the customer. Regardless of scope, budget or installation restrictions, I can always find a solution.
Oana Gheorghita - Project Development Engineer
My philosophy is to never make a customer wait for an answer, so I always respond to queries straight away. I try to anticipate their needs and add value to every project.
Phil Waterworth - Project Engineer (Digital)
The main thing I do for customers is offer them visibility: of the product in their tanks, energy monitoring, diagnostics … you can't make smarter decisions without data!
Anwar Nawaz - Application Consultant
Customers these days want to get more from their assets such as data for predictive and preventive maintenance. I can advise customers on the right choice for them.
Ann Nolan - Service Contracts
Our tailor-made service contracts help customers to plan ahead to minimise disruption to their plant while meeting compliance requirements.
Chris Snelling - Energy Monitoring
Using our energy monitoring software, we help companies to track and manage their consumption of utilities to prevent fines for breaching usage limits.
Wes Allen - Energy Solutions
I've helped many customers achieve accreditation for their energy solutions. Our automated data collection system takes the pain out of reporting obligations.
Lisa Rothwell - New Business Development
It's a great feeling to know that with a little help and support from us, our customers can make smarter decisions when it comes to getting the most out of their process.
Tim Sagar - Offshore
I'm responsible for commissioning safety-critical devices, which requires specialist knowledge and training. I help customers protect their assets by ensuring instruments function under difficult conditions.
Abbey Ratcliffe - Agile Team: Chemical
To guide my customers into making smarter decisions, I've learnt to be adaptable. Understanding customer needs is where it starts for me and building trust is vital.
Katriona Kirkpatrick - Service Co-ordinator
I'm one of the people you'll contact to plan a maintenance visit from an Endress+Hauser engineer, whether that's a regular scheduled visit or urgent help with a breakdown.
Cara Moore - Smart Support
For quick support with decision-making, customers can call, chat to us online or search our knowledge portal, which contains thousands of articles to help resolve issues on site.
Chris Warren - Ecommerce
Feedback from customers shows that ordering online saves time. Being able to view prices, lead times, technical specifications and order history simplifies the process.
Steve Ward - Customer Training
Our experienced trainers don't just discuss the theory of process measurement and control but help customers to resolve the real issues they're facing on site.
Lewis Rodgers - Service Technician
I prefer to spend extra time with a customer to explain something rather than just fixing it; that way, if it does happen again, they can resolve it themselves.
Dapo Adegbenro - Agile Team: Water
I try to make every interaction with customers fun and engaging. Developing relationships enables customers to get to know me and trust me to help when it matters.
Success stories
Here are some of the ways in which we've helped our Life Sciences customers make smarter decisions to improve their processes.
Get in touch
We can help you to make smarter decisions and achieve your goals sooner. Get in touch by calling 0161 286 5000 or fill in our form and tell us how we can help.