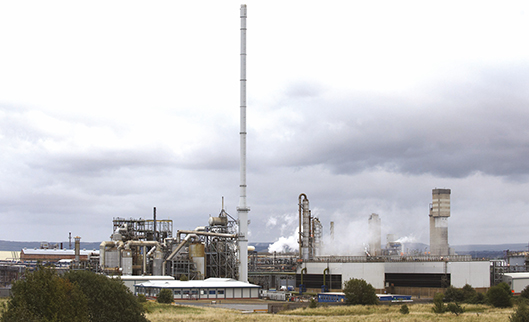 Lucite International
Heartbeat Technology's inline diagnostics reduce downtime for acrylics manufacturer.
At Lucite International's Cassel Works in Billingham, a flowmeter monitoring the rate of flow from a reactor vessel to the downstream process was producing an incorrect reading. Lucite's engineers couldn't determine why the meter was periodically indicating zero flow through the pipeline, causing the process to 'trip' (automatically shut down) as a safety precaution.
An Endress+Hauser engineer visited the site and accessed the device diagnostics via Wi-Fi using an SMT70 Field Xpert tablet. Using the flowmeter's inbuilt Heartbeat Technology function, the engineer was able to run a verification and determine that the flowmeter's empty pipe cable was faulty. "The normal display didn't indicate anything wrong, so we wouldn't have had a clue what the problem was, but Heartbeat zeroed in on it straight away," says Project I/E Interface Engineer Aaron Matthewman.
Get in touch
Success stories
Here are some of the ways in which we've helped our customers make smarter decisions to save money and improve their processes.
Get in touch
We can help you to make smarter decisions and achieve your goals sooner. Get in touch by calling 0161 286 5050 or fill in our form and tell us how we can help. We're looking forward to working with you.
Take our challenge and win!
Win a free Endress+Hauser energy-saving audit worth up to £2,000! Simply choose the smartest decisions (i.e. correct answers) in our quiz and share your details to be entered into our draw.
To find out what our energy saving audits entail, take a look at our FAQs. Terms and Conditions apply.