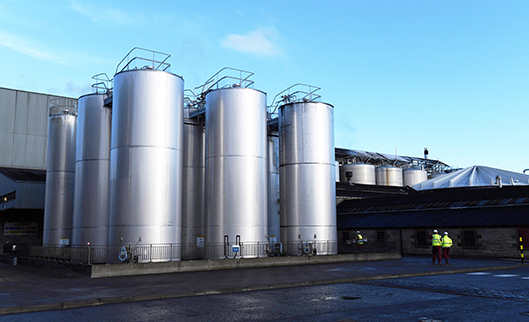 North British Distillery 
Robust flowmeter boosts quality and efficiency under challenging conditions at North British Distillery.
The North British Distillery company is one of Scotland's oldest and largest Scotch grain whisky producers. When two density meters at the Edinburgh distillery failed within a week of each other, the plant's engineers were looking for a modern replacement to measure the alcohol concentration of their product. The distillery's accuracy requirements, need for reliability and the high temperature of the process had proved challenging for other instruments.
After a successful trial, North British Distillery purchased a Promass Q flowmeter for each of its four stills. As well as mass and volume flow, the meters measure density and temperature.
Project Engineer Brynjar Ólafsson says the flowmeters have improved product quality and efficiency:
"You know which stills are performing, which ones aren't, which ones you have to look at, where you've got a problem, where you don't have a problem. It gives you clear information so you can manage your process better."
Get in touch
Success stories
Here are some of the ways in which we've helped our customers make smarter decisions to save money and improve their processes.
Get in touch
We can help you to make smarter decisions and achieve your goals sooner. Get in touch by calling 0161 286 5050 or fill in our form and tell us how we can help. We're looking forward to working with you.
Take our challenge and win!
Win a free Endress+Hauser energy-saving audit worth up to £2,000! Simply choose the smartest decisions (i.e. correct answers) in our quiz and share your details to be entered into our draw.
To find out what our energy saving audits entail, take a look at our FAQs. Terms and Conditions apply.